I have had an annoying issue in the vSphere 6.5 Web Client, where Auto Deploy would not show up in the left side menu.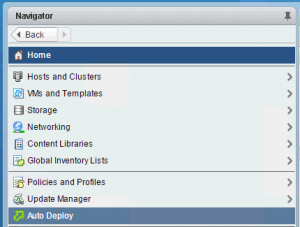 VMware has an article about how to resolve this, and basically you have to enable the Auto Deploy service on your vCenter after upgrading to VCSA 6.5. It is described in detail here: https://blogs.vmware.com/vsphere/2015/03/enable-auto-deploy-vcenter-server-appliance-vcsa-6.html
But on my installation that was not enough. The Image Builder service might also be stopped, so enable that too and after a quick re-login, you should be good to go.
That process is described in detail here: https://kb.vmware.com/selfservice/microsites/search.do?language=en_US&cmd=displayKC&externalId=2148038